Have you ever felt a weakness in your throat after a day of presenting or a particularly stressful interpreting job? I've had this problem on many occasions, especially when I started out. My vocal cords simply weren't used to speaking for hours on end under high stress, for example during simultaneous conference interpreting or hostile witness examinations.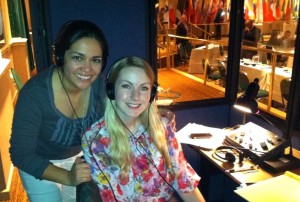 Me and a fabulous interpreting partner, Karla Badillo, at the International Baseball Federation. A good partner eases stress and splitting the work prevents vocal strain.
For interpreters and anyone who makes presentations, your voice is part of your livelihood. So, protecting and improving it is a no-brains investment in your primary business asset—you. And vocal health is not just for interpreters. Translators who make sales presentations, speak with clients on the phone, or lead professional development events can also benefit. A pleasant speaking voice can even lead to a new income stream in thevoiceover market.
Fortunately, it doesn't take a lot of time or effort to develop a pleasant speaking voice. I've taken singing lessons and attended a workshop with a voiceover coach, but allow me to save you a few hundred dollars with three simple strategies for vocal improvement:
1.  Use better posture.
Sit or stand straight to improve clarity. Your instrument is an L-shaped tunnel (throat and mouth) and for the best sound, you want that tunnel to be as wide open as possible. I've seen interpreters hunched behind a defendant or leaning forward over their notes, which naturally compresses the throat and muffles articulation.
Try this:
Do interpretation exercises or practice your presentation while standing with your back against the wall. Notice how this body alignment feels and get used to speaking from this position.
2.  Breathe deeply.
Before my singing lessons, I honestly did not know what it feels like to have my lungs full of air. If your lungs are actually full, you feel the lungs pressing against the ribs in your back and down against your stomach. Untrained vocalists breathe shallow breaths, filling only the top half of the lungs. As a result, the vocal cords work harder than they would if there were proper breath support and fatigue faster. With proper breath support, your voice will sound fuller and more pleasant.
Try this:
Take a coffee stirrer (very narrow straw) in your mouth and inhale through it very slowly until you can no longer take in any more air. Hold the air for as long as you can, then remove the stirrer and exhale as slowly as you can (try counting to 10 for each stage). Do this exercise for 5 minutes a day to practice proper breathing and strengthen the muscles that control your lungs.
3. Care for your vocal instrument.
If you've read this far, you probably agree that vocal health is important. Consider choosing one or two of the following to protect and heal your vocal system:
Limit alcoholic, caffeinated, and carbonated drinks
Stop smoking
Keep your vocal cords lubricated with plenty of water (cool to warm is much better than icy or hot water)
Avoid coughing (yes, it really is possible!)
Avoid extended periods of whispering or shouting
Finally, remember to give your voice a rest whenever you start to note signs of vocal strain. Forcing yourself to speak in spite of warning signs like hoarseness or pain can result in polyps and permanent damage to the vocal cords.
These are the strategies that have helped me most. Do let me know if you try these and see any results, and feel free to add any of your own advice in the comments.