I am freshly returned from a weekend at the National Association of Judicial Interpreters and Translators annual conference in Las Vegas, Nevada.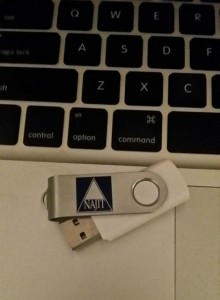 Before getting into some of the details of what I learned, I'd like to mention that this organization has a long history of working to advance the profession and advocating for both interpreting/translation professionals and those with limited English proficiency who use our services in the judicial system.  The conference had around 200 attendees, and it was an honor to be surrounded by so many pioneers of our profession.  NAJIT brings together human resources from the most progressive jurisdictions in the country, creates resources for its members, and advocates for our noble profession at the national level.  I highly recommend NAJIT membership to anyone involved in translation/interpretation in the legal field.
As for the details, one of my main motivations in attending this conference was the 8-hour seminar taught by Tony Rosado on Mexico's recently enacted reforms to its judicial processes.  Historically, the oral proceedings we interpret in the U.S. have generally not had direct counterparts in Spanish-speaking countries, where cases were resolved entirely in writing, through briefs and judicial opinions.
This dissimilarity meant that the Spanish terminology we study as court interpreters was always an exercise in description as we searched for terms that expressed each aspect of the U.S. judicial process in a way that would be understood by a Spanish speaker despite the lack of an equivalent proceeding in his or her home country.  For example, an arraignment is a court hearing in which the defendant, his attorney, the prosecutor, and the judge convene for a formal reading of the charges against the defendant.  There was no equivalent hearing, thus there was no single, authoritatively correct, Spanish term.  Instead, as a profession we continuously develop a lexicon of accepted terms, with no small amount of scholarship and debate along the way.
Now, after years of ramping up for the change, Mexico is converting its judicial system to one of oral proceedings like that of the United States. The most immediate effect for U.S.-based judicial interpreters is that there is now a body of Spanish-language legislation that officially names the equivalent concepts for many of our judicial proceedings.  This is also a revolution for the practice of law in Mexico, and there are already thousands of pages written in Mexico's scholarly journals on the advantages and disadvantages of oral proceedings, as well as volumes of books published to prepare the bar for oral practice.
Interestingly, Mexico's new legislation codifies the right to interpreters for those who do not speak Spanish or do not speak it well, in much more detail than does the United States' legislation.  There are current efforts to develop licensing and training programs from the ground up, to train interpreters for this type of work, which previously had not been needed in most Mexican jurisdictions.
I recommend following Tony's blog for updates as these changes take effect.
Thank you to all the presenters and NAJIT for hosting such an excellent event.